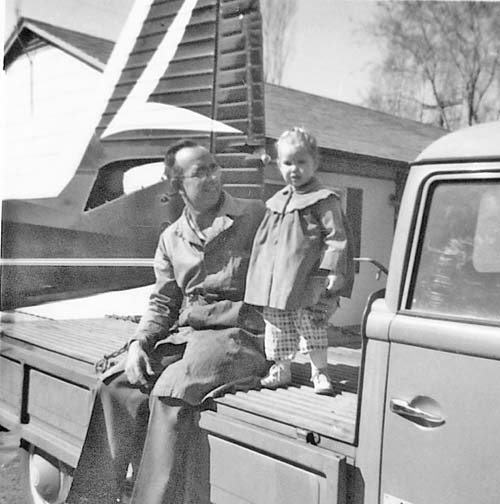 Pilot Dean Ganders and his daughter, Lori, sitting on the Ganders' Volkswagen pickup truck at their home in Richland, Wash. in March 1962. Dean flew an airplane during the Cold War to patrol the fencelines at the Hanford Nuclear Reservation. (Photo courtesy of another daughter of Dean Ganders, Becky Decker.)
In 1937, Stanton purchased 480 acres from Thomas and Ada Hooker.
The Hookers had farmed in Bickleton after homesteading in 1882. The former Hooker home on Ferguson Road became Stanton's home. It still stands today as the home of the Juris family, also painted white and green. The Hooker place also had a large red barn, a machine shed, a shop, a quonset for grain storage, and a pig pen; Stanton tried his hand at raising sheep but focused on raising polled herefords, wheat and barley.
Stanton continued to farm the Hooker Place, the Oestreich Place, the Wilber Carrell Place (a 1904 homestead), and other Bickleton family property farmed by his parents and grandparents. He acquired the Beckner Place, which once was the site of a dance hall and artesian well on the Mabton-Bickleton road on the Yakima County side of the Yakima-Klickitat County line.